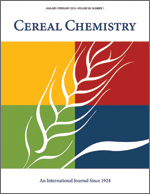 Cereal Chem 50:322 - 328. | VIEW ARTICLE
Barley Starch. V. A Comparison of the Properties of Waxy Compana Barley Starch with the Starches of its Parents.

K. J. Goering, R. Eslick, and B. W. DeHaas. Copyright 1973 by the American Association of Cereal Chemists, Inc.

Waxy Compana barley has been developed by the introduction of the waxy gene from waxy Oderbrucker. The physical properties of the starch from the parents, normal Oderbrucker and the derived waxy Compana, have been investigated. Waxy Compana has a higher viscosity than waxy Oderbrucker; this may be associated with the gene responsible for the higher viscosity of Compana in the normal varieties. Although the Brabender cooling curve is nearly identical to that reported for waxy sorghum, the barley starch has only half the swelling power and one third the solubility of waxy sorghum. This suggests that the amylopectin is unique in waxy Compana starch. This might be explained if its amylopectin contains either unusually long branches or natural cross-linking.