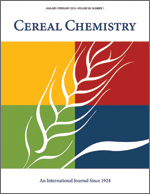 Cereal Chem 50:329 - 335. | VIEW ARTICLE
Extraction of Nonprotein Nitrogen from Oilseed Meals with Different Solvents.

R. S. Bhatty and A. J. Finlayson. Copyright 1973 by the American Association of Cereal Chemists, Inc.

Nonprotein nitrogen was directly extracted from oil-free meals of rape, sunflower, and soy with seven solvents. Trichloracetic acid (TCA), sulfosalicylic acid, and acetic acid extracted larger quantities of meal nitrogen than ethanol, chloroform-methanol, and acetone-HCl. Perchloric acid did not extract a significant amount of nitrogen from the meals. However, not all of the nitrogen extracted by TCA (and presumably by sulfosalicylic and acetic acids) was nonprotein nitrogen; it extracted from all the three meals large quantities of protein nitrogen. Ethanol extracts of the meal contained little or no protein nitrogen. Amino acid analyses of TCA and ethanol extracts showed the former to contain three times less total free amino acids than the latter when calculated on extract nitrogen basis but nearly the same, except in soy, when calculated on gram meal basis. TCA and ethanol extracted different quantities of certain amino acids from the same meal. It was concluded that nonprotein nitrogen content of the meals varies with the method and solvent of extraction. Direct extraction of the meal with 80% ethanol is easier, but gives lower yields of basic amino acids lysine and arginine compared with TCA extracts of the same meal.