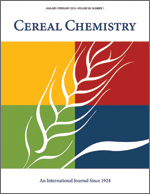 Cereal Chem 50:336 - 345. | VIEW ARTICLE
Further Studies on the Fractionation and Characterization of the Gel Proteins of Wheat Flour by Column Chromatography.

E. W. Cole, H. Ng, and D. K. Mecham. Copyright 1973 by the American Association of Cereal Chemists, Inc.

The acetic acid-insoluble proteins of wheat flour were extracted with a dilute mercuric chloride solvent and separated into gel-filtered and salt-eluted fractions by agarose chromatography. These fractions were heterogeneous as shown by polyacrylamide gel electrophoresis and appreciable amounts of the salt-eluted proteins did not migrate into the gel. These proteins contained the same amino acids as the wheat flour glutenin fraction with the former containing considerably more glycine and tyrosine than the latter. The electrophoresis pattern of the reduced gel-filtered fraction was different from that of the reduced salt-eluted one.