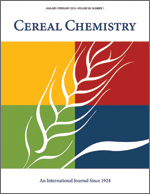 Cereal Chem 50:346 - 352. | VIEW ARTICLE
Invertase Activities During the Germination of Barleys that Differ in Malting Properties.

N. Prentice. Copyright 1973 by the American Association of Cereal Chemists, Inc.

Invertase activities of Larker barley of good malting quality and of Trebi and Feebar barleys of poor malting quality were examined during 5 days of germination. During the first 3 days the levels of soluble and insoluble invertases of the poor malting barleys were at least as high as those of Larker. Amylase and protease activities of Trebi and Feebar were low throughout the entire germination period. After 5 days of germination the levels of the soluble invertases of Trebi and Freebar were low, but the levels of the insoluble invertases were similar to that of Larker. The levels of soluble invertases of Trebi and Feebar were low in all tissues of the embryo (roots, shoot, axis, and scutellum). Sucrose levels in the scutellum were similar for all varieties at the 3- and 5-day stages of germination. The author postulates that if amylase and protease syntheses in the aleurone cells depend upon invertase activity in the embryo, then the soluble invertases are limiting in Feebar and Trebi.