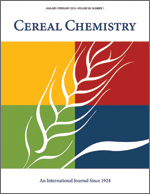 Cereal Chem 50:363 - 371. | VIEW ARTICLE
Internal Pressure in Yeasted Dough II.

H. Matsumoto, J. Nishiyama, and I. Hlynka. Copyright 1973 by the American Association of Cereal Chemists, Inc.

An automatic system for measuring and recording internal pressure in yeasted dough, an improved version of the manual system reported in a previous paper, is described. With this system, higher or increasing pressure was observed in dough oxidized with iodate, bromate, and L-ascorbic acid. Alternately, with reducing agents such as glutathione, pressure remained constant. Assuming Maxwell's rheological model for dough, it was calculated that viscosity and rate of expansion determine the tension of the gas cell membranes, and hence internal pressure in fermenting dough.