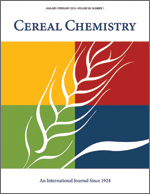 Cereal Chem 50:372 - 378. | VIEW ARTICLE
Determining Thioctic Acid (Lipoic Acid) in Wheat Flours and Germs by Thin-Layer Chromatography.

A. Swatditat and C. C. Tsen. Copyright 1973 by the American Association of Cereal Chemists, Inc.

Thioctic acid in wheat flours and germs was extracted by a rapid-extracting method with a ternary mixture of chloroform, methanol, and water. The extractability of thioctic acid by the ternary mixture indicates that thioctic acid is more likely bound to protein in wheat flour and germ through hydrogen bonding than through covalent bonds. The thioctic acid was separated from the extract by ascending thin-layer chromatography (TLC) (silica gel) with a solvent system of ethyl ether:petroleum ether:acetic acid (60:40:2,v./v./v.); charred with a saturated solution of potassium dichromate in 55% sulfuric acid; and determined by densitometry. Extracting added thiotic acid in flour by acid hydrolysis showed a lower recovery as compared with the rapid method. Identification of thioctic acid spots was further confirmed by two-dimensional TLC. The thioctic acid content, determined by the present TLC method ranged from 1.38 to 2.85 micromoles per g. for wheat flour and 36.59 to 41.04 micromoles per g. for wheat germ. However, no reduced thioctic acid was detected.