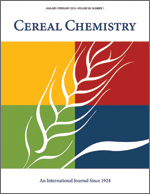 Cereal Chem 50:537 - 547. | VIEW ARTICLE
Isolation and Characterization of Gliadin-Like Subunits from Glutenins.

J. A. Bietz and J. S. Wall. Copyright 1973 by the American Association of Cereal Chemists, Inc.

The polypeptide subunits of wheat glutenin obtained after reductive cleavage of disulfide bonds have been separated into two fractions by a modified Osborne technique. Approximately 62% of the subunits by weight are soluble, as is gliadin, in neutral 70% ethanol; the ethanol-soluble subunits are mainly of 44,000 molecular weight (MW). The ethanol-insoluble glutenin subunit fraction is markedly different in amino acid composition, and consists of high-MW subunits, and some of lower MW. Sodium dodecyl sulfate electrophoresis, starch-gel electrophoresis, and amino acid analyses suggested that some ethanol-soluble subunits of reduced glutenin may be equivalent to subunits of high-MW gliadin. To test this possibility, both fractions were reduced and alkylated and 44,000-MW subunits were isolated and partially characterized.