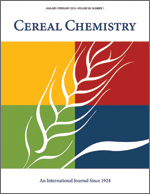 Cereal Chem 50:580 - 589. | VIEW ARTICLE
Acylated Steryl Glucosides from Soybean Globulins: Isolation and Characterization.

W. J. Wolf and B. W. Thomas. Copyright 1973 by the American Association of Cereal Chemists, Inc.

Previous studies at the Northern Laboratory showed that isolated soybean proteins contain materials extractable with aqueous alcohols consisting of phosphatides, saponins, beta-sitosteryl glucoside, genistein, triglycerides, and unidentified compounds. We have now identified acylated steryl glucosides as an additional fraction of the materials extractable with 86% (v./v.) ethanol from freeze-dried acid-precipitated soybean globulins. The dry solids extracted from soy proteins with alcohol were leached with hexane, and the portion soluble in hexane was chromatographed on an activated magnesium silicate column. Yields of acylated steryl glucosides were 0.06% of the weight of the protein. The acylated steryl glucosides were characterized by thin-layer chromatography, hydrolysis to steryl glucosides, and analyses of fatty acids, sterols, and glucose. Although the fatty acids included 26% linoleic and 2% linolenic acid, the intact acylated steryl glucosides were not oxidized by the Theorell preparation of soybean lipoxygenase.