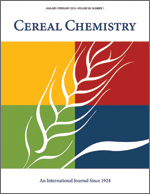 Cereal Chem 50:605 - 612. | VIEW ARTICLE
Changes in Flour Proteins During Dough-Mixing. III. Analytical Results and Mechanisms.

K. Tanaka and W. Bushuk. Copyright 1973 by the American Association of Cereal Chemists, Inc.

Chemical analyses showed that the number of sulfhydryl (SH) groups decreased during mixing in all doughs except in the controls mixed in nitrogen. The rate of loss was slightly different for three varieties of flour. There was no change in the number of disulfide groups with mixing in the doughs investigated. The proteolytic activity and the content of amino groups of the three flours increased with decreasing strength. However, the number of amino groups was not affected by mixing time. There was no change in the amount of free lipid during mixing. A possible mechanism for the breakdown of doughs by excessive mixing (with or without SH reagents) is presented.