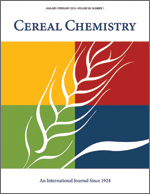 Cereal Chem 51:46 - 50. | VIEW ARTICLE
Improved Canning Stability of Parboiled Rice Through Cross-Linking.

J. E. Rutledge, M. N. Islam, and W. H. James. Copyright 1974 by the American Association of Cereal Chemists, Inc.

Hydroxyl groups of rice starch were randomly cross-linked by phosphorus oxychloride, epichlorohydrin, and sodium trimetaphosphate in an alkaline medium. The intergranular structure reinforced by ester and ether bonds produces marked changes in the swelling behavior of the rice kernel and its subsequent resistance to overcooking during thermal processing. There was a highly significant reduction in solids loss as compared to that from commercial canners' quality rice. Taste panel evaluations involving color, cohesiveness, flavor, doneness, and general appearance indicate that cross-linked samples were superior to unmodified samples with regard to all attributes tested. Sodium trimetaphosphate- and epichlorohydrin- treated parboiled rice were superior to phosphorus oxychloride-treated samples.