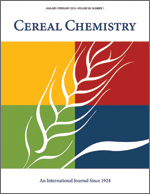 Cereal Chem 51:74 - 83. | VIEW ARTICLE
Antifungal Activity of Volatile Fatty Acids on Grains.

D. C. Herting and E. E. Drury. Copyright 1974 by the American Association of Cereal Chemists, Inc.

Relative activities were determined for volatile fatty acid formulations as antifungal agents for grains. The testing procedures comprised storage of treated or untreated grain with various moisture contents for 1 week or more at 30 C. and at least 70% r.h. Examinations for fungi included both gross and microscopic observations following several plating procedures. Formic, acetic, proprionic, butyric, and isobutyric acids were effective fungicides; isobutyric acid showed the highest activity. Most binary and ternary mixtures of the acids were synergistic in their fungicidal activity. The acid formulations were effective antifungal agents on corn, grain sorghum, wheat, oats, barley, and soybeans. The level of a formulation required for protection increased as the moisture content of the grain increased. Protection was often conferred for periods of a year or more.