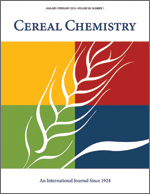 Cereal Chem 51:96 - 105. | VIEW ARTICLE
A Method for the Detection of Beta-Nitropropionic Acid in Crude Biological Extracts.

G. J. Moskowitz and T. Cayle. Copyright 1974 by the American Association of Cereal Chemists, Inc.

Methods now available for the detection of beta-nitropropionic acid (BNP) in crude biological extracts are either nonspecific for BNP, require extensively purified samples, require large quantities of the unknown, or are too laborious to be utilized as a general screening method. These problems are especially acute where quantities of BNP are low and contaminants are in large excess. BNP is detected in crude biological systems using the technique of thin-layer chromatography. The sample is extracted with ether at pH 2.0 to 2.5 and evaporated to dryness. The extract is dissolved in 1.0 ml. of acetone and spotted on silica gel plates for either one- or two-dimensional thin-layer chromatography. The method can detect as little as 30 gamma of BNP, which makes it feasible for the determination of small quantities of BNP in a large excess of contaminating materials. The method is flexible in that several solvent systems can be used.