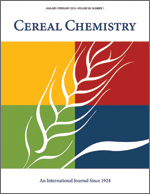 Cereal Chem 51:106 - 111. | VIEW ARTICLE
The Nutritive Value and Organoleptic Properties of White Arabic Bread Supplemented with Soybean and Chickpea.

A. H. Hallab, H. A. Khatchadourian, and I. Jabr. Copyright 1974 by the American Association of Cereal Chemists, Inc.

The nutritive value and organoleptic properties were studied on white Arabic bread supplemented with 10, 20, 30, 40, and 50% chickpea flour and 4, 6, 8, and 10% soybean flour. Supplementation both with chickpea and soybean enhanced the nutritive value of the bread as shown by animal experiments. Amino acid analysis of supplemented bread revealed a net increase in lysine level. The organoleptic properties of the chickpea-supplemented bread compared favorably with the unsupplemented bread up to a level of 20% supplementation. Soybean-supplemented bread results showed a net increase in the available protein as compared to plain bread or L-lysine supplemented bread. Arabic bread supplemented with up to 10% soybean flour showed a high level of acceptability when compared to unsupplemented bread.