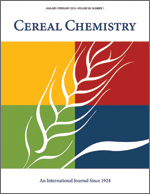 Cereal Chem 51:126 - 133. | VIEW ARTICLE
Agtron in Evaluation of Cereal Flours.

P. R. Murthy and J. H. Dietz. Copyright 1974 by the American Association of Cereal Chemists, Inc.

Wheat flour samples were made into slurries with water, and the color read in an Agtron Reflectance Spectrophotometer. Various grades of wheat flours were graded on color basis. When blends of flours were read in the Agtron, linear relationships between the percent of one ingredient and the Agtron color reading were found. A simple and rapid method for determining the percentage composition of a two-component blend is described. It is necessary to establish only one standard curve if the same batches of ingredients are used throughout the operation. The degree of bleaching of flours with benzoyl peroxide was followed by this color technique.