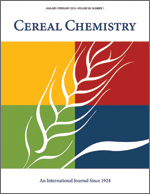 Cereal Chem 51:188 - 194. | VIEW ARTICLE
Carotenoids of Durum Wheat: Induced High Pigment Levels Obtained by Treatment of the Growing Plant with Chlorophenylthiotriethylamine (CPTA) Hydrochloride.

J. B. Lier and L. J. Lacroix. Copyright 1974 by the American Association of Cereal Chemists, Inc.

The effect of chlorophenythiotriethylamine (CPTA) on durum wheat cv. Hercules was examined. CPTA was applied by spraying at various stages of growth. Harvested grain showed a significant increase in pigment protein and steroid content. Optimal results were obtained with an application of 40 oz. per acre 1 week after flowering. Factors that would influence the interaction between seed protein, pigment, and steroid are discussed in relation to the statistical analysis of the levels of flour constituents. Methods of carotenoid and steroid analysis are discussed.