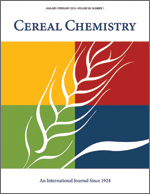 Cereal Chem 51:228 - 239. | VIEW ARTICLE
Wheat Glutenin Subunits. I. Preparative Separation by Gel-Filtration and Ion-Exchange Chromatography.

F. R. Huebner and J. S. Wall. Copyright 1974 by the American Association of Cereal Chemists, Inc.

A combination of gel-filtration and ion-exchange chromatography was used to isolate two pure polypeptide subunits of wheat glutenin for the first time. In native glutenin polypeptide chains are linked by disulfide bonds to form a high-molecular-weight (MW) protein whose viscoelastic properties are important to wheat- flour dough behavior. After reductive cleavage of glutenin disulfide bonds the resulting sulfhydryl groups were alkylated with vinylpyridine to maintain stable polypeptide units. Electrophoretic comparison of reduced glutenin treated with various alkylating agents indicated the derivatives formed by the reaction with vinylpyridine were most suitable for the isolation experiments. Because of the complexity of the subunit mixture, a preliminary separation was made on cross-linked dextran with 0.03M acetic acid-4M urea. It yielded three distinct fractions, A, B, and C, of different MW ranges. Further fractionation of A and C by gel filtration in other systems provided additional resolution. The B and C fractions were chromatographed on sulfoethyl cellulose columns, using an increasing concentration of guanidine hydrochloride for elution. Some eluted peaks contained individual polypeptides while others had only two.