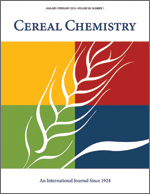 Cereal Chem 51:250 - 261. | VIEW ARTICLE
A Protein from Wheat Flour that Binds Calcium and Stearoyl-2 Lactylate Ions.

J. G. Fullington. Copyright 1974 by the American Association of Cereal Chemists, Inc.

A protein component that binds Ca++ has been found in the water-soluble fraction of both hard red and soft white wheats. The protein was isolated by solubility fractionation in ammonium sulfate solutions and by gel-permeation chromatography. After binding calcium this protein can react further with phospholipids to form complexes of an ordered, crystalline structure. The protein with bound calcium also will form a complex with the dough improver, stearoyl-2 lactylate ion.