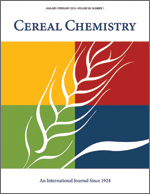 Cereal Chem 51:262 - 271. | VIEW ARTICLE
Defatted Corn-Germ Flour as a Nutrient Fortifier for Bread.

C. C. Tsen, C. N. Mojibian, and G. E. Inglett. Copyright 1974 by the American Association of Cereal Chemists, Inc.

Defatted corn germ, rich in minerals and protein with lysine content more than twice that of normal wheat flour, is suitable as a nutrient fortifier for bread. Under optimum conditions, acceptable bread could be made from wheat flour fortified with 12% defatted corn-germ flour. In many countries where loaf volume is not emphasized, the fortified level could be raised to 24%. Defatted corn germ contains fewer sulfhydryl compounds than wheat germ. Accordingly, heat treatment and high dosage of oxidant were not required to improve the baking performance of the corn germ-fortified wheat flour. When ethoxylated monoglyceride, sodium stearoyl-2 lactylate, sucrose monopalmitate, or sucrose tallowate was added, improvement was evident; in fact, no acceptable bread could be made from the fortified flour without the addition of one of these agents.