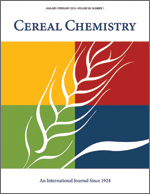 Cereal Chem 51:281 - 287. | VIEW ARTICLE
Studies of Glutenin. VII. Inheritance of Its Physiochemical Factors in Triticale.

R. A. Orth, B. L. Dronzek, and W. Bushuk. Copyright 1974 by the American Association of Cereal Chemists, Inc.

Glutenins of one variety of Triticale (6A190) and its rye and durum parents were studied by sodium dodecyl sulfate-polyacrylamide gel electrophoresis, amino acid analysis, and scanning electron microscopy. Results of all techniques showed that glutenin of Triticale is simply inherited from its parents. All glutenin subunits of the Triticale could be accounted for by corresponding subunits in one, or both, of its parents. The amino acid composition of the Triticale glutenin was essentially intermediate between that of its rye and durum parents. Distinct differences in the ultrastructure of glutenin of spring rye (cv. Prolific) and amber durum (cv. Stewart) were noted. Both types of ultrastructure were evident in the micrographs of Triticale glutenin.