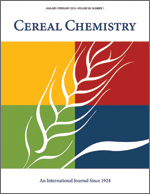 Cereal Chem 51:376 - 381. | VIEW ARTICLE
Determination of Trypsin Inhibitor Activity of Soy Products: A Collaborative Analysis of an Improved Procedure.

M. L. Kakade, J. J. Rackis, J. E. McGhee, and G. Puski. Copyright 1974 by the American Association of Cereal Chemists, Inc.

A more accurate and reproducible procedure is described for measurement of trypsin inhibitor activity of soybean products than the method developed by Kakade in 1969 for measuring antitryptic activity in raw soybeans. Because the modified procedure is particularly suitable in determining trypsin inhibitor activity of heat-processed samples, it is recommended for use in evaluating the heat destruction of trypsin inhibitors in soybean samples.