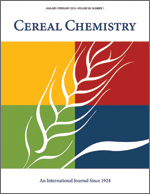 Cereal Chem 51:457 - 464. | VIEW ARTICLE
Modulation of o-Diphenolase and Monophenolase Enzymes During Wheat Grain Development.

S. R. Taneja, Y. P. Abrol, and R. C. Sachar. Copyright 1974 by the American Association of Cereal Chemists, Inc.

The activity and isoenzymes of polyphenol oxidase have been examined in the developing grains of wheat. There was no synchrony in the appearance of monophenolase and o-diphenolase activities during the development of seed. The o-diphenolase activity is considerably high in young seeds, while the monophenolase activity is practically undetectable throughout the major period of grain filling. The induction of monophenolase activity occurs with the onset of grain ripening, while at this stage, a 60-fold reduction was witnessed in o-diphenolase activity. Further, the developing grains revealed 9 to 10 isoenzymes of o-diphenolase activity and only a single activity band of monophenolase.