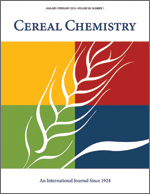 Cereal Chem 51:472 - 477. | VIEW ARTICLE
Fat Content in Corn Grits: Effects of Grinding, Extraction Solvents, and Analytical Methods.

J. E. McGhee, L. T. Black, and O. L. Brekke. Copyright 1974 by the American Association of Cereal Chemists, Inc.

Yellow brewers' grits ground to different particle sizes were extracted from 2 to 16 hr. with pentane-hexane, diethyl ether, or carbon tetrachloride. For comparative purposes, fat content of the grits was determined also by acid hydrolysis and by an extraction-transesterification procedure wherein the extract was analyzed by gas-liquid chromatography. Particle size strongly influenced the reported fat content regardless of method of analysis or extraction solvent used. Standardization of the grinding and analytical procedure would provide a basis for direct comparison of reported fat contents of brewers' grits.