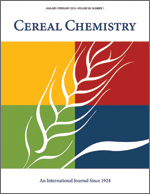 Cereal Chem 51:487 - 491. | VIEW ARTICLE
Aflatoxin Detection in Corn: A Simple Screening Test.

L. M. Seitz and H. E. Mohr. Copyright 1974 by the American Association of Cereal Chemists, Inc.

A simple screening test for aflatoxin in corn is described. The test can be completed in about 15 min. and will detect aflatoxin at levels as low as 5 p.p.b. The method involves extraction of the grain with methanol in a blender, removal of fat and pigments by partitioning into hexane (or Freon-113) from an aqueous ammonium sulfate layer, and transfer of the aflatoxin from the aqueous layer into methylene chloride. Final detection is accomplished by a TLC procedure requiring only 3 min. developing time. The presence of aflatoxin is indicated by a blue fluorescent spot at a specified position on the plate. Aflatoxin concentration can be estimated by comparison of the sample spot with standards.