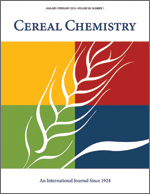 Cereal Chem 51:529 - 533. | VIEW ARTICLE
Effect of Wheat Processing on the Tryptophan Content of the Resulting Product.

L. Hussein, M. Abbassy, A. Arafah, and S. R. Morcos. Copyright 1974 by the American Association of Cereal Chemists, Inc.

The tryptophan content of whole wheat and eight other wheat products was assessed by chemical analysis. It was found to be highest in wheat (70 mg. per g. N); lowest in short-extracted white flour (55 mg. per g. N), baladi (58 mg. per g. N), and French bread (62 mg. per g. N) prepared from it. When the tryptophan content of whole wheat was set as 100, the following relative values were obtained for tryptophan in the following wheat products: 78.7 in white flour; 82.1 and 88.8 in the corresponding baladi and French bread prepared from it; 96.9 in the high-protein dietetic bread; 97.1 in belila (parboiled whole wheat); and 119.1 in biscuits. Under the experimental conditions, neither the baking process nor the boiling process had a destroying effect on the tryptophan content of the resulting product. Biscuit is poor in total nitrogen (1.182%) and its high content of tryptophan is attributed to the incorporation of milk and eggs in the dough.