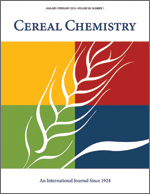 Cereal Chem 51:552 - 558. | VIEW ARTICLE
Pericarp and Endosperm Structure of Sorghum Grain Shown by Scanning Electron Microscopy.

R. C. Hoseney, A. B. Davis, and L. H. Harbers. Copyright 1974 by the American Association of Cereal Chemists, Inc.

The structure of sorghum grain samples representing a wide genetic base was examined with a scanning electron microscope. The soft or opaque endosperm is characterized by relatively large intergranular air spaces. The starch is essentially round and covered with a thin sheet of protein. Embedded in the protein sheet are relatively large spherical protein bodies. The hard or translucent endosperm portion is characterized by a tightly packed structure with no air spaces. The starch granules are polugonal and covered with a thin protein matrix. Embedded in the protein matrix are protein bodies composed of a protein, kafrin, which is low in lysine. The hard endosperm is a result of strong adhesion between protein and starch. When the hard endosperm is fractured, many starch granules are broken rather than the starch- protein interface being broken. A dwarf variety from Sudan had relatively few protein bodies in the endosperm. Amino acid analysis confirmed that this variety contained 3.01 g. lysine per 100 g. protein, significantly more than normal in sorghum grain.