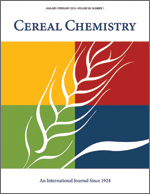 Cereal Chem 51:573 - 577. | VIEW ARTICLE
A Comparison of the Properties of Large- and Small-Granule Starch Isolated from Several Isogenic Lines of Barley.

K. J. Goering and B. DeHaas. Copyright 1974 by the American Association of Cereal Chemists, Inc.

Small and large starch granules were isolated from six different barleys including high-amylose, waxy, and high-lysine varieties along with their normal counterparts. Pasting temperatures, Brabender cooking curves, solubility, swelling power, beta-limit, and amylose content were compared. The only consistent differences observed were in the beta-limit level where the small granules had higher limits and slightly higher values for the birefringence end point temperature of the small granules. The amylose content of the small granules was either equal to or less than that found for the large granules.