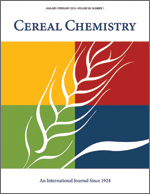 Cereal Chem 51:623 - 628. | VIEW ARTICLE
Sterol Lipids Isolated from Pea Seeds (Pisum sativum).

T. Miyazawa, S. Ito, and Y. Fujino. Copyright 1974 by the American Association of Cereal Chemists, Inc.

Four classes of sterol lipids--free sterols, sterol esters, sterylglycosides, and acylsterylglycosides--were isolated from pea seeds, identified, and examined for fatty acid and sterol composition as well as sugar constituents. beta-Sitosterol was the principal free sterol. The sterol esters were mainly composed of linoleic acid and beta-sitosterol, sterylglycosides of glucose and beta-sitosterol, and acylsterylglycosides of palmitic acid, glucose, and beta-sitosterol.