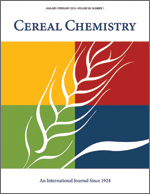 Cereal Chem 51:629 - 634. | VIEW ARTICLE
Breadmaking Characteristics of Wheat Flour Fortified with Various Commercial Soy Protein Products.

G. S. Ranhotra and R. J. Loewe. Copyright 1974 by the American Association of Cereal Chemists, Inc.

Fifteen commercial soy protein products chosen to represent variations in chemical characteristics were used to fortify wheat flour. While such fortification affected bread characteristics adversely, high-protein soy products, namely, concentrates and isolates, had a more pronounced effect even at a low level (10%) of fortification. Most soy flours, especially full-fat and high-fat products, however, permitted fortification at the 15 to 20% level, and produced breads of acceptable volume, flavor, and overall quality, with resultant substantial increases in protein content and greatly improved amino acid balance.