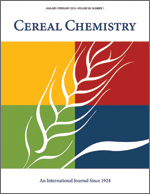 Cereal Chem 51:635 - 640. | VIEW ARTICLE
Changes in Amino Acid Composition of Maturing Hiproly Barley.

Y. Pomeranz, D. M. Wesenberg, G. S. Robbins, and J. T. Gilbertson. Copyright 1974 by the American Association of Cereal Chemists, Inc.

Protein content and amino acid composition were determined at five stages of maturity in seven barley populations including the high-lysine/low-lysine pair, Kiproly and CI 4362. During maturation, concentrations (in the protein) of lysine, aspartic acid, alanine, and valine decreased more rapidly and concentration of glutamic acid increased to higher levels in CI 4362 than in Hiproly. However, amounts of some of the amino acids (i.e., lysine and aspartic acid) per kernel were identical in mature kernels of the pair. The results indicate that differences in concentrations of certain amino acids of the barleys may have resulted from differences in kernel development and protein deposition in the whole kernel or in specific kernel tissues.