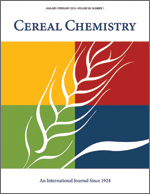 Cereal Chem 51:684 - 692. | VIEW ARTICLE
Studies of the Role of Ascorbic Acid in Chemical Dough Development. I. Reaction of Ascorbic Acid with Flour-Water Suspensions.

D. R. Grant. Copyright 1974 by the American Association of Cereal Chemists, Inc.

At the 60-p.p.m. level, nearly all the L-ascorbic acid that was added to a flour-water suspension disappeared in approximately 15 min. This level is within the effective range for chemical dough development. At higher levels the rate was nearly independent of ascorbate concentration so that the time required for it to disappear increased directly with the amount. The rate was rapid enough to associate ascorbic acid oxidation with the function of this additive in chemically developed doughs. The pH optimum was 6.3, suggesting an enzymatic reaction. Salt at low concentrations was inhibitory. Cysteine was only slightly inhibitory. Bromate had no effect. Extraction of the chloroform-soluble lipids had no effect but extraction of the 1-butanol-soluble fraction caused 60% inhibition. Reconstituting the lipid fraction with the butanol- extracted flour did not result in any recovery in the rate at which ascorbate was oxidized, but supplementation of untreated flours with butanol-extracted lipids significantly enhanced this activity.