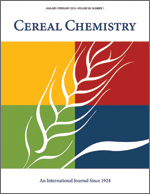 Cereal Chem 51:693 - 701. | VIEW ARTICLE
Horsebean as Protein Supplement in Breadmaking. I. Isolation of Horsebean Protein and Its Amino Acid Composition.

K. M. Patel and J. A. Johnson. Copyright 1974 by the American Association of Cereal Chemists, Inc.

A protein isolate was prepared from horsebean (Vicia faba) by extraction with water or dilute Ca(OH)2 solution using rapid agitation. Adding 0.25% L-ascorbic acid based on flour weight prevented the alkali extracts and the final isolate from turning green. Protein in the clarified liquor was precipitated after adjustment to pH 4.25 with 6N HCl. Following precipitation and centrifugation, the protein curd was washed with water, centrifuged, and finally freeze- or oven-dried. The final protein isolate was light tan. The protein content of the isolate prepared at laboratory and pilot scale ranged from 71 to 83% (N x 6.25). The total yield based on flour or flake weight was 16.5 to 21%. The yield of the isolates depended on solid:solvent ratio, granulation, extraction time, and temperature. Horsebean flour and horsebean protein isolate were analyzed for amino acid composition. Both sources exhibited a relatively high concentration of essential amino acids. The lysine content in both was 3.5 times that of wheat flour. Isolation of protein resulted in slight losses and shifts in the amino acid concentration. The use of horsebean protein in breadmaking will be discussed in the second paper of this series.