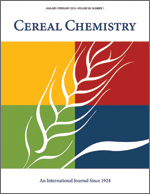 Cereal Chem 51:707 - 717. | VIEW ARTICLE
Ultracentrifugation and Binding Studies of Acid-Sensitive Soybean Proteins.

R. L. Anderson. Copyright 1974 by the American Association of Cereal Chemists, Inc.

A fraction of the soybean protein that precipitates at pH 4.5 remains insoluble after neutralization. According to an assay developed, this acid-sensitive fraction (ASF) accounts for 25 to 30% of the water- extractable proteins. The ASF has been precipitated from an aqueous extract of soybean meal with (NH4)2SO4 at pH 7.0 to yield preparations containing up to 67% ASF. Samples that contain ASF are tan or brown, and color intensity increases in proportion to the amount of ASF present. Difference spectroscopy of equilibrium dialysis samples indicates that ASF binds nonprotein material from 2 to 10 times more tightly than do the other soybean proteins. The 7S protein which lacks the ability to form a dimer at 0.1 ionic strength appears to function prominently in acid denaturation of ASF.