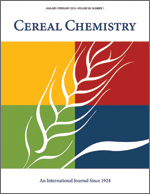 Cereal Chem 51:718 - 733. | VIEW ARTICLE
Periodicity of Growth and Starch Deposition in the Developing Wheat Grain.

L. D. Jenkins, D. P. Loney, P. Meredith, and B. A. Fineran. Copyright 1974 by the American Association of Cereal Chemists, Inc.

Three cultivars of bread wheat have been serially harvested from ear emergence to beyond harvest ripeness in three seasons. Deposition of dry matter in the kernel does not occur at a uniform rate but shows periodic fluctuations of rate of deposition. The periodicity is complex, having frequency of maxima about 3 to 4, 6 to 7, and 10 days. Similar periodicity is observed for rate of starch deposition and for concentrations of some enzymes and metabolites. Transmission electron micrographs are presented showing, without Lintnerization, the periodic shell-like formation within starch granules, and showing the groove reticulum that is present within the plastid and related to starch synthesis.