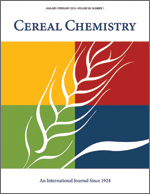 Cereal Chem 51:750 - 757. | VIEW ARTICLE
A Scanning Electron Microscope Study of Fababean Seed.

T. J. McEwen, B. L. Dronzek, and W. Bushuk. Copyright 1974 by the American Association of Cereal Chemists, Inc.

The cotyledons and seed coat of fababean (Vicia faba L.) variety Ackerperle were examined using the scanning electron microscope. Photomicrographs showed no discontinuity in the thick seed coat. Cross- section of the seed coat showed characteristic palisade, parenchyma, tracheid, and hourglass cells, similar to those of other legumes. Examination of the cells in the cotyledons revealed variably shaped starch granules of about 25 to 40 microns in diameter surrounded by irregularly shaped protein bodies of 1 to 5 microns in diameter. The cell walls were about 2 microns thick and had a ribbed or furrowed inner surface. Photomicrographs of the outer surface of the cotyledons and embryo, roller-milled flour, and a protein isolate are also reported.