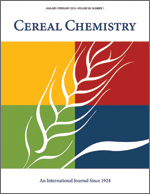 Cereal Chem 52:1 - 8. | VIEW ARTICLE
Effect of Parboiling of Rice on the Rate of Lipid Hydrolysis and Deterioration of Rice Bran.

A. B. Shaheen, A. A. El-Dash, and A. E. El-Shirbeeny. Copyright 1975 by the American Association of Cereal Chemists, Inc.

Two rice varieties, one short grain (Nahda) and one long grain (Arabi), were parboiled with either a soaking or a boiling pretreatment prior to steaming; the effect of such parboiling treatments on the rate of lipid hydrolysis during long-term storage was then investigated. Parboiling of rice reduced the development of free fatty acids (FFA) in the bran oil; although the bran of parboiled rice can be stored as long as 10 months with only minor deterioration, the bran of untreated rice cannot be stored for more than 1 month without serious deterioration of oil and bran quality. Unparboiled bran exhibited two distinct stages of hydrolysis, an initial rapid rate for the first 7 weeks of storage and a subsequent slower rate throughout the remainder of the storage period. This latter stage was independent of the variety. The long-grain variety (Arabi) showed a lower rate of lipid hydrolysis for both parboiled and untreated samples than the short-grain one, although preboiled, parboiled samples showed greater lipolysis of bran oil than presoaked, parboiled ones. The value of the parboiling process in reducing the rate of FFA development is somewhat offset by the loss in resistance to oxidation, as was evident from an increase in the peroxide value for the parboiled samples.