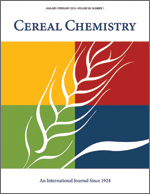 Cereal Chem 52:9 - 20. | VIEW ARTICLE
Molecular Interaction in Alkali Denatured Soybean Proteins.

K. Ishino and S. Okamoto. Copyright 1975 by the American Association of Cereal Chemists, Inc.

Water extractable, acid-precipitated soybean proteins were treated with NaOH. Molecular interaction of soybean proteins denatured with alkali occurred above 8% concentration at pH 12.3. Under these conditions, a remarkable increase of solution viscosity or gelation was observed after dialysis against phosphate buffer, pH 7.2. On the other hand, protein treated at less than pH 11.0 and at more than 8% concentration did not increase in viscosity after dialysis. The results suggest that soybean proteins change their conformation above pH 11.0. Gelation was strongly inhibited by addition of urea or mercaptoethanol. When the proteins were treated at pH 13.4, their viscosity did not increase after dialysis, although the structure was more disorganized. Decomposition of cystinyl residue occurred near pH 11.0 and increased gradually at higher pH. Interaction during dialysis after alkali treatment above pH 11.0 apparently results from intermolecular bonds (hydrogen, hydrophobic, disulfide bonds) formed by amino acid residues that become accessible to each other by conformational changes. At pH 7.2 and 10.4, the solutions of alkali- treated proteins showed high viscosities. This seems to be caused by aggregation and increased hydration of proteins not involving changes of the structure.