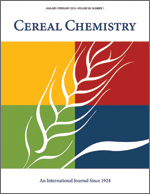 Cereal Chem 52:34 - 43. | VIEW ARTICLE
Fractionation and Recovery of Cottonseed Whey Constituents by Ultrafiltration and Reverse Osmosis.

J. T. Lawhon, S. H. C. Lin, C. M. Cater, and K. F. Mattil. Copyright 1975 by the American Association of Cereal Chemists, Inc.

Isolation of protein from cottonseed and other oilseed flours results in a whey-type liquid by-product. Cottonseed wheys contain from 21 to 31% of the nitrogen in the flour extracted. To recover valuable constituents from these wheys and solve the disposal problem they present, the wheys were processed using ultrafiltration (UF), and reverse osmosis (RO) membranes. In a typical pilot plant scale run, membrane processing lowered the chemical oxygen demand (COD) from 12 x 10(3) p.p.m. to 65 p.p.m. Total solids content of whey was reduced by more than 99% in the effluent from the RO membrane. COD was found to correlate closely with total solids minus ash (correlation coefficient = 0.991) and protein plus carbohydrates (correlation coefficient = 0.992). Concentrated constituents retained by the UF membrane when spray dried yielded high-protein products which had commercial potential either as whipping agents or for use in protein fortification of breads and beverages. The composition and yields of these products were determined. Concentrates containing salts and carbohydrates retained by the RO membrane were also spray dried and product composition and yields determined.