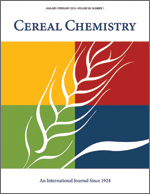 Cereal Chem 52:101 - 107. | VIEW ARTICLE
Influence of Ergot on Spring Wheat Milling and Baking Quality.

W. C. Shuey, L. D. Sibbitt, and B. L. D'Appolonia. Copyright 1975 by the American Association of Cereal Chemists, Inc.

Ergot sclerotia were added to a spring wheat mix in amounts of 0.3, 1.5, and 3.0% on an as-is weight basis. The samples were milled on a Pilot mill and baked by three different procedures. The percent flour extraction decreased in proportion to the amount of ergot added. The physical dough and baking properties were not appreciably changed by the addition of the ergot, except for crumb color.