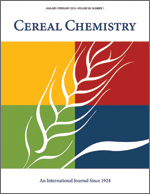 Cereal Chem 53:201 - 213. | VIEW ARTICLE
Changes in the Polyphenol Oxidases of Wheat During Kernel Growth and Maturation.

J. E. Kruger. Copyright 1976 by the American Association of Cereal Chemists, Inc.

Polyphenol oxidase (PPO) activities were determined at various stages in the growth and maturation of hard red spring, soft white spring, and durum wheat kernels, using a number of phenolic substrates. PPO activity was formed early in kernel development and decreased with kernel maturation. Dissection studies indicated that a large part of the PPO in the immature wheat kernel was present in the endosperm. Polyacrylamide- slab electrophoresis of immature kernel extracts followed by addition of gallic acid or catechin indicated that up to 12 PPO isozymes were present. These isozymes were located in different parts of the kernel. Upon germination, PPO activity increased.