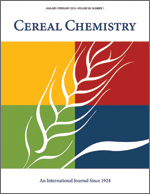 Cereal Chem 53:222 - 226. | VIEW ARTICLE
Lysine and Tryptophan Increases During Germination of Cereal Grains.

A. Dalby and C. Y. Tasi. Copyright 1976 by the American Association of Cereal Chemists, Inc.

During germination of wheat, barley, triticale, rye and oats, increases in lysine and tryptophan and decreases in prolamine occurred. Little or no increase in lysine and tryptophan occurred in germinating rice; this may possibly be related to the low prolamine content of rice.