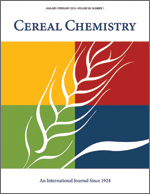 Cereal Chem 53:227 - 232. | VIEW ARTICLE
Incidence of Alfatoxin in Corn and a Field Method for Alfatoxin Analysis.

W. H. Hunt, R. C. Semper, and E. B. Liebe. Copyright 1976 by the American Association of Cereal Chemists, Inc.

Incidence refers to the proportion of samples with levels of aflatoxin detectable by the test method used. Surveys were made during the 1972 and 1973 crop years to determine the incidence of aflatoxin in commercial lots of marketed corn. Samples being officially graded by several field offices were selected for these surveys. The field offices examined the samples under high intensity black light for evidence of bright greenish-yellow fluorescence (BGYF). Samples with kernels exhibiting BGYF were tested for aflatoxin. During 1972, both the CB thin-layer chromatography and Velasco rapid florisil column methods were used to test for aflatoxin. Only the latter test method was used in the 1973 survey.