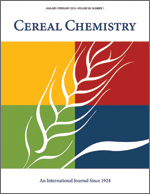 Cereal Chem 53:233 - 241. | VIEW ARTICLE
Performance of Triticale Flours in Tests for Soft Wheat Quality.

L. T. Kissell and K. Lorenz. Copyright 1976 by the American Association of Cereal Chemists, Inc.

Five cultivars of triticale were milled on a Quadrumat Senior mill to straight-grade flours for evaluation in the Wooster Sugar-Snap Cookie Test. Basic performance was poor and correlated inversely with hydration properties as measured by the alkaline water retention capacity (AWRC) test. Addition to the dough system of 1-2% (flour weight basis) of commercial soy lecithin improved both cookie spread and top-grain scores to equal soft red winter (SRW) wheat flour. Layer cake performance of triticale flour was determined by AACC Method 10-90. The effects of processing variables (rebolting, pin-milling, and chlorination) on flours were studied as they influence cake quality. Volumes from as-milled, chlorinated triticale were significantly below the level of cake from SRW patent flour. Both removal of large particles by rebolting on 165-mesh sieve and reduction of particle size by progressive pin-milling improved performance of triticale flours. Additional improvement was obtained by increasing emulsification of the batter system with commercial mono-and diglycerides. With 3% added emulsifier, blends of triticale-wheat flour, ranging from 20 t 50% triticale, produced layers equal to or significantly larger than SRW patent without added emulsifiers.