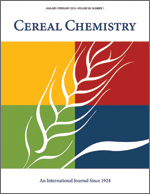 Cereal Chem 53:615 - 625. | VIEW ARTICLE
Improved Sucrose Esters in Breadmaking.

O. K. Chung, Y. Pomeranz, D. R. Goforth, M. D. Shogren, and K. F. Finney. Copyright 1976 by the American Association of Cereal Chemists, Inc.

Several commercial sucrose esters of various hydrophile-lipophile balances (HLB) were compared in breadmaking as replacements of wheat-flour lipids and 3% shortening. The beneficial effect of sucrose esters on loaf volume and texture when baked with petroleum ether (PE) defatted flour increased with increased HLB values. Sucrose ester with an HLB of 1.0 only partially replaced flour lipids, but with an HLB of 8.0, it was a better replacement than the one with an HLB of 1.0, and two sucrose esters with an HLB of 14.0 functionally replaced both flour lipids and 3% shortening. Removing the PE-soluble fractions enhanced the beneficial effects of the two sucrose esters were those with Rf values close to those of digalactosyl diglycerides of flour lipids.