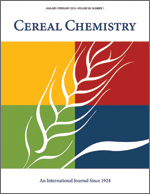 Cereal Chem 53:650 - 655. | VIEW ARTICLE
A Review of Methodology for Emulsification Properties of Plant Proteins.

G. Puski. Copyright 1976 by the American Association of Cereal Chemists, Inc.

Emulsifying properties of proteins play an important role in a large number of food applications. The development of a standardized method to measure such properties would help food processors select the right protein for a given application. Because of the large diversity of food emulsions, it is difficult to develop one model system to measure emulsification properties which would be applicable in all cases. Therefore, it is proposed that three model systems be developed to simulate three general types of food emulsions, namely, comminuted meat sausages, low-fat mayonnaise-type emulsions. Composition, preparation, and methods of evaluation of the emulsion stability of such model systems are discussed.