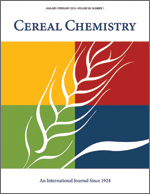 Cereal Chem 53:671 - 677. | VIEW ARTICLE
The Effects of Dough Formation and Baking on Iron Enrichment of Bread as Studied by Electron Paramagnetic Resonance.

J. J. Windle, C. C. Nimmo, and E. J.-L. Lew. Copyright 1976 by the American Association of Cereal Chemists, Inc.

The state of iron in dough and bread and the effects of the breadmaking process on reduced iron additive have been investigated by electron paramagnetic resonance (EPR) spectroscopy. EPR spectra are presented for the intact wheat kernel, and for flour, dough, and bread. The results of this study suggest that in unenriched dough and bread iron is present in both the ferrous and ferric states and that baking results in the oxidation of ferrous iron to ferric. When reduced iron has been added, dough formation and baking cause some of the reduced iron to be oxidized to the ferrous and ferric states, but most of the reduced iron remains unchanged throughout the breadmaking process.