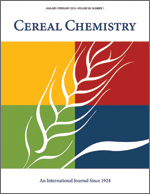 Cereal Chem 53:692 - 698. | VIEW ARTICLE
Physical Properties and Biological Evaluation of High-Lysine Maize.

P. Van Twisk, G. V. Quicke, and H. O. Gevers. Copyright 1976 by the American Association of Cereal Chemists, Inc.

A locally bred, open-pollinated, white, opaque-2 maize variety was found to differ from normal hybrids in dry-milling properties, starch particle size, relative density, water absorption index, and water solubility index. Starch yield on wet milling, however, was comparable to normal white hybrids and superior to local yellow hybrids. The opaque-2 maize was nutritionally superior to normal maize.