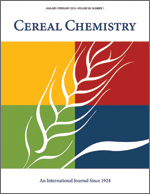 Cereal Chem 53:725 - 732. | VIEW ARTICLE
A Model Substance and Improved Control of Heating for Moisture Analysis of Cereals.

Y. Malkki and M. Salminen. Copyright 1976 by the American Association of Cereal Chemists, Inc.

Magnesium sulfate in a crystal size fraction 0.25 to 0.50 mm was found to be suitable for use as a model substance for the determination of moisture in cereal samples, its weight loss reflecting the usual variables in drying conditions. Heat transfer to the samples was found to be more critical to the accuracy of the determinations than the exact temperature during drying. Changes in the present definitions and control of drying time and temperature are suggested, as are possible applications of magnesium sulfate in the determination of moisture in foods other than cereals.