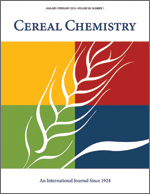 Cereal Chem 53:750 - 761. | VIEW ARTICLE
Comparative Studies of Protein and Amino Acid Changes in Peanuts Infected with Neurospora sitophila and Rhizopus oligosporus.

J. P. Cherry and L. R. Beuchat. Copyright 1976 by the American Association of Cereal Chemists, Inc.

Proteins and total and free amino acids of noninfected 'Florunner' peanut (Arachis hypogaea L.) seeds were characterized and compared to seeds infected for intervals up to 7 days with the ontjom fungi, Neurospora stiophila and Rhizopus oligosporus. Amounts (bases on evaluations taken as mg/ml or percentage) of proteins in dilute buffer (sodium phosphate; 1 = 0.01; pH 7.9)-soluble extracts of seeds infected with either fungus declined similarly during most of the test period and, simultaneously, percentages of these components increased in buffer-insoluble preparations. Amounts of protein in whole seeds and soluble and insoluble fractions of uninoculated peanuts showed only minor quantitative changes during the test period. The percentage of protein in whole seeds infected with either fungus increased slightly at 2 days after inoculation and thereafter remained constant. Polyacrylamide gel electrophoresis showed that shortly after the start of the test period, most of the proteins that were soluble in buffer fractions of R. oligosporus- and N. sitophila-infected peanut seeds were converted to small molecular-weight components. Quantities of some free amino acids in infected whole seeds increased to level above those of uninoculated seeds, while others decreased during the 7-day test period. Growth of either R. oligosporus or N. sitophila on seeds altered the percentages of total amino acids in the different fractions analyzed when compared to those of uninoculated seeds. These changes corresponded with the qualitative changes in proteins shown by gel electrophoresis. Changes in protein and total and free amino acid composition of peanut seeds associated with fungal catabolism and anabolism may contribute to nutritional quality alterations associated with Oriental peanut fermentation processes.