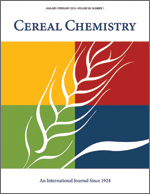 Cereal Chem 53:762 - 767. | VIEW ARTICLE
Changes in Barley Peroxidase Activity During Kernel Development.

D. E. LaBerge and J. E. Kruger. Copyright 1976 by the American Association of Cereal Chemists, Inc.

Peroxidase activity in whole kernels and discrete kernel tissues from two barley cultivars (Hordeum vulgare L. and Hordeum distichum L.) was determined at various staged of kernel development. Differences in peroxidase activity were noted in similar tissues dissected from the two cultivars at comparable stages of development. Much of the peroxidase activity was associated with endosperm tissue in both cultivars, but the amount varied at different stages during ripening. Only low levels of peroxidase were found in the hulls, pericarp, and green layer from each variety. Higher levels of peroxidase activity were detected in aleurone tissue and in the embryo and scutellum of Bonanza barley than were detected in similar tissue from Centennial barley. Barley peroxidase activities were stable to heat, as less than 50% of the total activity was lost after 15 min at 70 C.