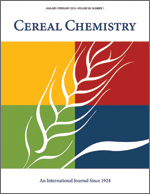 Cereal Chem 53:777 - 786. | VIEW ARTICLE
Physicochemical Characterization of Barley-Lipoxygenase.

E. C. Lulai and C. W. Baker. Copyright 1976 by the American Association of Cereal Chemists, Inc.

Linoleic acid was used as the substrate from optimizing the assay of barley lipoxygenase in the cultivar Larker. Maximal activity was observed at a linoleic acid concentration of 5.45 x 10(-5)M. The following parameters were determined: a) pH optimum, 6.0; b) temperature optimum, 47 C; c) average apparent Km, 2.57 x 10(-6)M; d) average Vmax, 1.95 x 10(-2) micromol/min; and e) activation energy, 2.2 kcal/mol to oxidize linoleic acid between 25 degrees and 45 C. The enzyme was thermally stable up to 50 C and inactivated totally at 65 C. Compared to the activity produced by 5.47 x 10(-5)M linoleic acid at pH 6.0, linolenic acid and trilinolein were less reactive. Barley lipoxygenase was not inhibited by iron binding compounds. Inhibition by p-chloromercuribenzoate was irreversible. No activation was observed with Ca2+ or Mg2+. The presence of one lipoxygenase-active electrophoretic band was detected by a lipoxygenase- specific staining procedure. At least 92% of the lipoxygenase activity is localized in the germ.